Oh how I love my CVS! Thery always have my items in stock and the ladies there know me and for the most part love to see my savings! Sometimes we have some issues but it happens. All I can recommend to everyone is KNOW YOU STORES COUPON POLICIES! Don't let them bully you...many cashiers feel that if you pay cents for all your items that you are 'stealing' from the store. Don't buy into that!!!! The stores get paid back for the coupons you use plus 8 cents! So really they are making money from you! Also, don't feel ashamed, most of the time they are jealous that you found the sales before they did! HeHe!!! Anyway...back to my CVS trip this morning!!!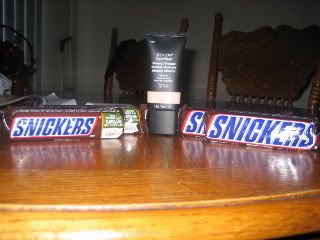 Revlon makeup: $9.99
Free after ECB
4 snicker's bars:2/$1
-2 $1off 2 coupons
FREE!
Total before coupons and ECB's:$11.99
-2 $1 off 2 candy
-1.98 ECB
-1.98 ECB
-2.00 ECB
-3.98 ECB
Total out of pocket(OOP):.89
ECB's Recieved: $9.99!